Vagina Museum – Episode C U Next Tuesday
**As part of Research Assistant Maggie Bergen's work with Teaching with Podcasts, we will be featuring posts on every episode of The Vagina Museum podcast, so stay tuned for the rest of the series. This museum is under financial stress due to Covid, so we encourage you to listen to their podcast, visit their website, and most importantly donate!
Episode: C U Next Tuesday
Series: The Vagina Museum Podcast
Release Date: March 11, 2020
Hosts: Alyssa Chafee and Hannah Hethmon, on behalf of the Vagina Museum
Episode and Transcript link: https://www.vaginamuseum.co.uk/podcast/season1episode1
Tags: Women, Women's History, Linguistics, Language, Public History, Gender, Gender History, Anatomy, Taboo, American History, History, Vagina, Reproduction, Cultural History
Trigger Warning: This episode mentions sexual trauma. A source the episode references – the film Teeth linked below – includes several scenes of sexual trauma and might be triggering for some students. In lieu of assigning the film, you can also sign the very brief Wikipedia page on "vagina dentata" that offers a global history of folklore.
Description:
Conversation/Mini Lecture: With a focus on language surrounding largely women and female genitalia, the main goal of this episode is to show the harsh stigmas and connotations that often come with the descriptive words for typically women's reproductive organs. The hosts provide a mini lecture while incorporating two guest speakers to talk about their experiences studying the controversial words. Although the hosts talk thoroughly about the past uses of these words, they also discuss actions that current and future generations can take to avoid stigmatizing women and women's genitalia.
Notes: Margaret Bergen: Please note that this podcast has very descriptive vocabulary. The hosts and guests use words typically understood as swearing, so be wary if your audience is sensitive to the more graphic or vulgar words of English. Kera Lovell: This series includes gender-inclusive language, such as "people with vaginas" rather than exclusively women. In addition, the series uses feminist theoretical terms like "cis hetero patriarchy" that can be good starting points for discussion if students aren't familiar.
Assignment Ideas:
DIY Urban Dictionary: What are the words and phrases or other forms of communication (emojis, memes, etc.) you use in your life that represent genitalia that are not in a dictionary? Work in groups for 20 minutes to create a small pamphlet dictionary, including the terms, definitions, tone, and contextual use. Swap for 10 minutes and then discuss the differences in the words, definitions, and usage.
Term Further Research: Have the students pick one word that they have found taboo in their lives and research the history of that word. How did it get to mean what it means? Was it always taboo? The students will write a 1-2 page report/review of their research, not including citations. This assignment allows the students to reflect on the language (English or other) and how social pressures can cause words to evolve into different meanings. If you would like a brief academic text that offers a list of taboo words about genitalia and sex that students can choose from, we recommend the Oxford Handbook of Taboo Words and Language pages 56-59.
Anatomical Inequality Matching Card Exercise: Students can complete this exercise online OR you can print the cards and have them match them in person. This exercise introduces students to reproductive anatomy while drawing their attention to "anatomical inequality" (Allison Draper) in male-dominated gynecology. Leave time for at least a 10 minute discussion as the exercise aims to transform earlier more lighthearted discussions about genitalia into a discussion of systemic sexism.
Discussion Questions:
This episode begs for a group "chalk-talk" discussion about language and genitalia, so we really look forward to hearing how your discussion goes!
The guest speaker on the episode explains that no one ever told them "cunt" was a so-called "bad" word – they learned from the behavior of others that certain words and behaviors around sex and genitalia were taboo. What memories do you have about initially learning about sex and genitalia? How/what did you learn was taboo?
What were you taught to call your genitalia? Is it different than what you call it now? Why?
Are there any other words that you feel will never recover from the meaning that has been socially placed on them? Why can't they recover?
What is Professor Elizabeth Rees's argument for replacing "cunt" with the letter V? Do you agree, disagree, and why? Any better terms?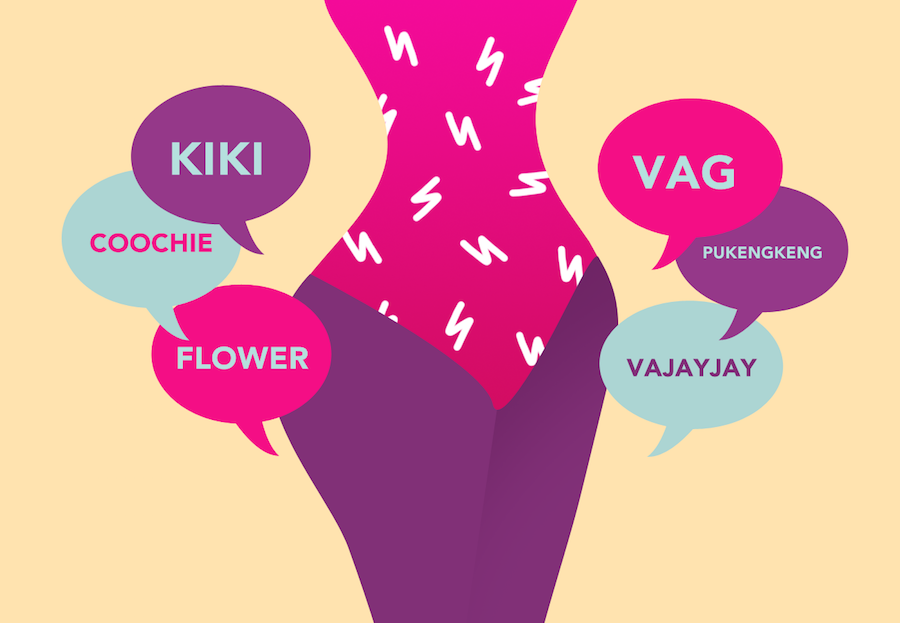 Other Relevant Sources:
Book: Emma Rees, The Vagina: A Literary and Cultural History https://www.goodreads.com/book/show/17286140-the-vagina
Chapter: Muriel R Shultz, "The Semantic Derogation Of Women" a chapter from The Feminist Critique of Language: A Reader https://www.goodreads.com/book/show/774941.The_Feminist_Critique_of_Language
Article: "'A Nasty Name For A Nasty Thing': A History Of Cunt" https://www.thewhoresofyore.com/katersquos-journal/a-nasty-name-for-a-nasty-thing-a-history-of-cunt
Article: "Vulvanomics: how we talk about vaginas" https://www.timeshighereducation.com/blog/vulvanomics-how-we-talk-about-vaginas
Article/Audio Recorded: Rachel E. Gross, "Taking the 'Shame Part' Out of Female Anatomy" NY Times (September 2021): https://www.nytimes.com/2021/09/21/science/anatomy-women-reproduction-epoynms.html
Article: "Low wenches and slatternly queans: On derogation of WOMEN TERMS" https://www.academia.edu/16116959/Low_wenches_and_slatternly_queans_On_derogation_of_WOMEN_TERMS
Films: Teeth, Michael Lichtenstein (2007) https://www.imdb.com/title/tt0780622/
Article: Allison Draper, "The history of the term pudendum: Opening the discussion on anatomical sex inequality," Clinical Anatomy: https://onlinelibrary-wiley-com.ezproxy.lib.utah.edu/doi/full/10.1002/ca.23659
Article: Matthew Zdilla, "The pudendum and the perversion of anatomical terminology," Clinical Anatomy: https://pubmed.ncbi.nlm.nih.gov/33259639/
Article: Leah Kaminsky, "The case for renaming women's body parts," BBC: https://www.bbc.com/future/article/20180531-how-womens-body-parts-have-been-named-after-men
Podcast: Vermont Public Radio, episode "Why are some words 'bad'?" www.vpr.org/programs/2019-12-06/why-are-some-words-bad